Jian Gao offers workshops for teaching Chinese to educators
真情教书 真诚育人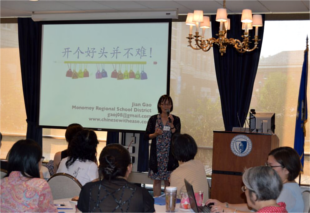 Teaching Chinese is much more than just delivering knowledge to our students. It is about inspiring them to be open-minded, to learn how to learn, to become life-long learners, and to explore the diverse world around them!
Jian Gao offers professional development opportunities to educators through universities, Chinese teachers' organizations and Confucius Institutes both in the US and in the countries around the world.
Jian Gao is particularly interested in helping schools set up a successful Chinese language program where all students excel, like she has done at Belmont Hill School. She works with classroom teachers, curriculum specialists, and administrators to create a comprehensive Chinese curriculum that keeps the proficiency standards, instruction, and assessment tightly focused and connected.
She is dedicated to offer new teachers with the resources and support they need to help students achieve.
If your organization is interested in working with Jian Gao, please give her a call at 617-909-4433.
These "minds-on" and "hands-on" workshops will provide participants with practical tools and new approaches for teaching that go beyond just teaching the language.
不拘一格教汉语

教学歌谣:

Rhyme it! Act it! Speak it!

开个好头并不难

Language Aims & Classroom Games
Assessment: More Than Just Grades
Igniting Student Engagement
The 40-50 Minute Lesson Format That Works!
Project Smart!
Road Map for Building a Successful Chinese Program
Get in the Act – Skits That Teach Chinese